For Christmas, I decided to knit hats. This thought didn't occur to me until around Thanksgiving (after I had knit only one hat). At one point, I was beginning to believe I was crazy to think that I could knit 7 hats in one month's time. I was a crazy knitting machine, and even though I had a few mishaps, I did manage to finish all the hats in time. This is the first of several hat posts... just a warning.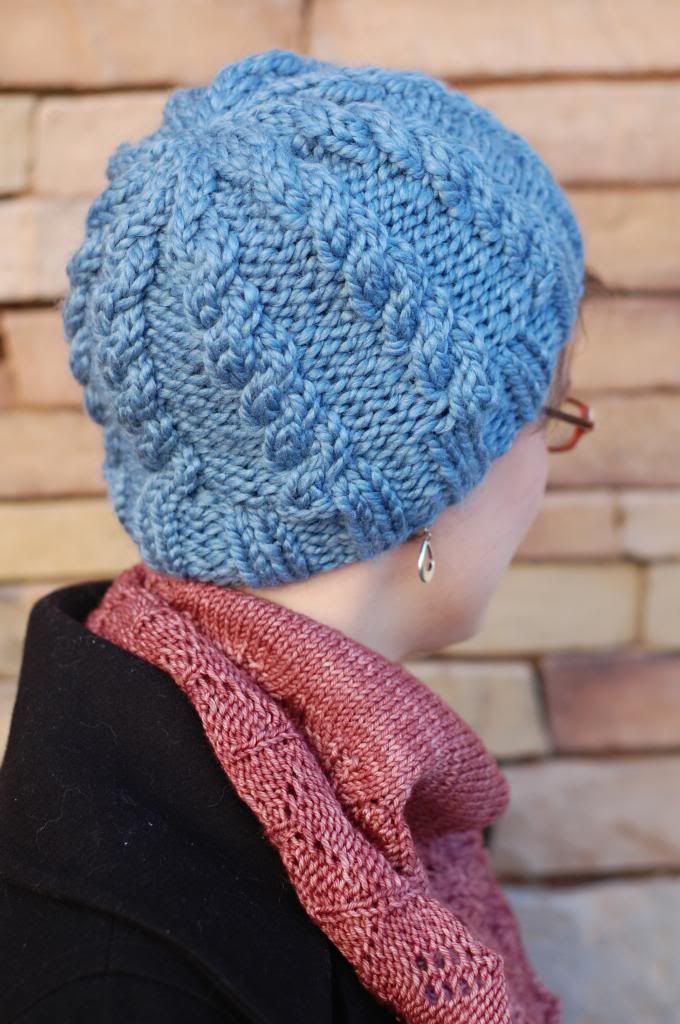 This hat was the first one I knit, and was relatively simple. The yarn was a chunky weight which made for a quick knit. Cables on the other hand seem to take me a bit more time since I haven't quite mastered the art of "cables without a cable needle". One day I hope too, but until then I'll keep on knitting cables the slow man's way.
About the yarn -
Loops and Threads Cozy Wool
. This was my first time knitting with this yarn. The 50% wool, 50% acrylic mix makes it soft and squishy and very warm. Overall it was nice to knit with, and didn't feel like a acrylic yarn (which I hate). It actually worked up surprisingly well. It is a little on the stiff side, but overall I'd use it again.
Pattern -
Bulky hat
by Eveli Kaur
Yarn -
Loops and Threads Cozy Wool
in Seastorm
Needles - US 13
Date Started - Nov. 1, 2012
Date Finished - Nov. 5, 2012
Made For - SIL Sara
Size Made - Adult Large
Modifications - Cast on 56 sts, increased 7 sts evenly after knitting 8 rounds of K2P2 ribbing. Knit the two decrease rounds per the pattern, then one additional decrease round of
k2tog, k2tog, p1
around.