My little nephew is the cutest thing there is. Seriously, the cutest! So how do you make a hat that compare to the cuteness that is Mr. Benjamin? Take an ear-flap hat, add some snowflake fair isle chart, and top it off with a pom pom. Once I spotted this pattern, I knew Mr. Ben would make it the best looking hat ever.
The pattern is a free Ravelry download (link found below) and was super easy to follow. I did make a few modifications, but they were relatively simple and didn't change the overall look of the hat too much. I ended up going up a needle size once I got to the colorwork section. I did this based on other knitters recommendations on this pattern, and I'm really glad I did. It really helped to keep the whole hat at the same circumference. I used Knitpicks Swish Worsted as the base yarn because I wanted something that would be warm, yet easy to clean. Probably my favorite part of the hat is the ties. Hopefully they will prove to be useful to a little boy that likes to rip his hat off. Or at least, maybe his mom will appreciate them.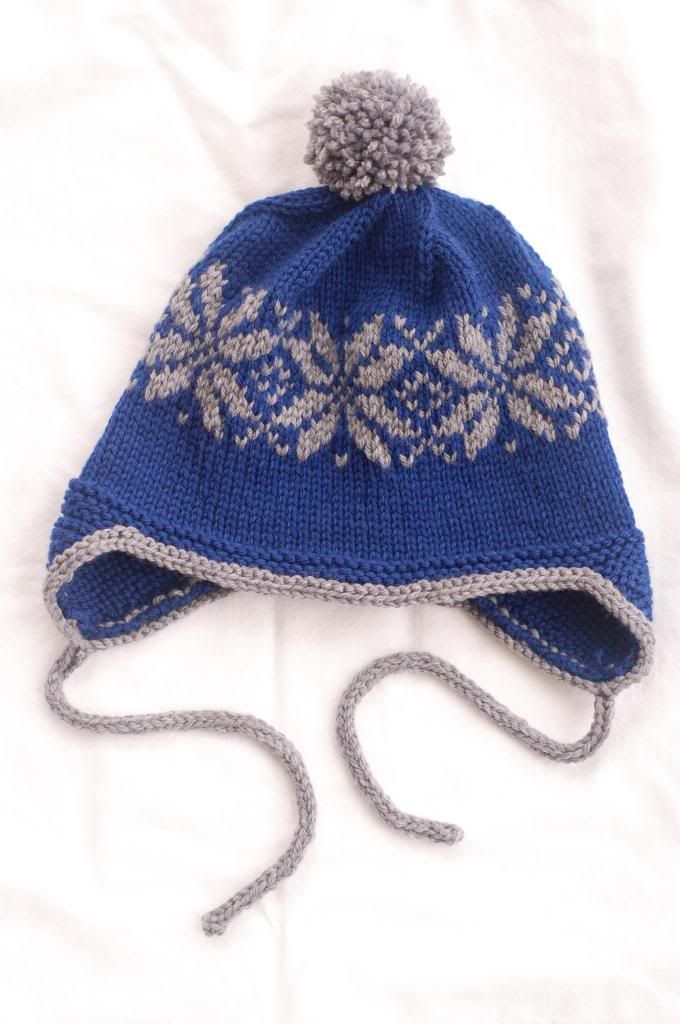 I really like this pattern, and hopefully will have an excuse to knit another one. Any excuse to knit some fair isle is a good one!
Ravelry Project Page
Pattern -
Norwegian Star Ear-Flap Hat
by Tiennie
Date Started - Nov. 20, 1012
Date Finished - Nov. 25, 2012
Needles - US 7 an US 8
Yarn -
Knitpicks Swish Worsted
in Dusk (blue) and Marble Heather (grey)
Mods - Knit for a size 19' head circumference. I knit the ear-flaps in garter stitch instead of stockinette. Knit three ridges of garter stitch before switching to stockinette on the body of the hat. I switched to size 8 needles for the colorwork section. I did a three stitch i-cord edging around the cap and ear-flaps, making the ties with the same 3 stitch i-cord. Also made a pom-pom for the top.