More of the hats I made for Christmas presents...
A
Stephen West
pattern knit in
Malabrigo
- is there anything better!? Probably not. Okay, well maybe... but I can't really think of anything right now that beats it.
This pattern has been one that I have wanted to try for a long time, and I finally had some guys to knit them for. D is very particular about his hats, very particular. He really doesn't wear them unless it is super cold, and it doesn't get that cold in NC. So, I've only ever made him one hat and I think he's only worn it like twice. My brother-in-law, however, does live in a cold enough place to deserve a hand knit hat.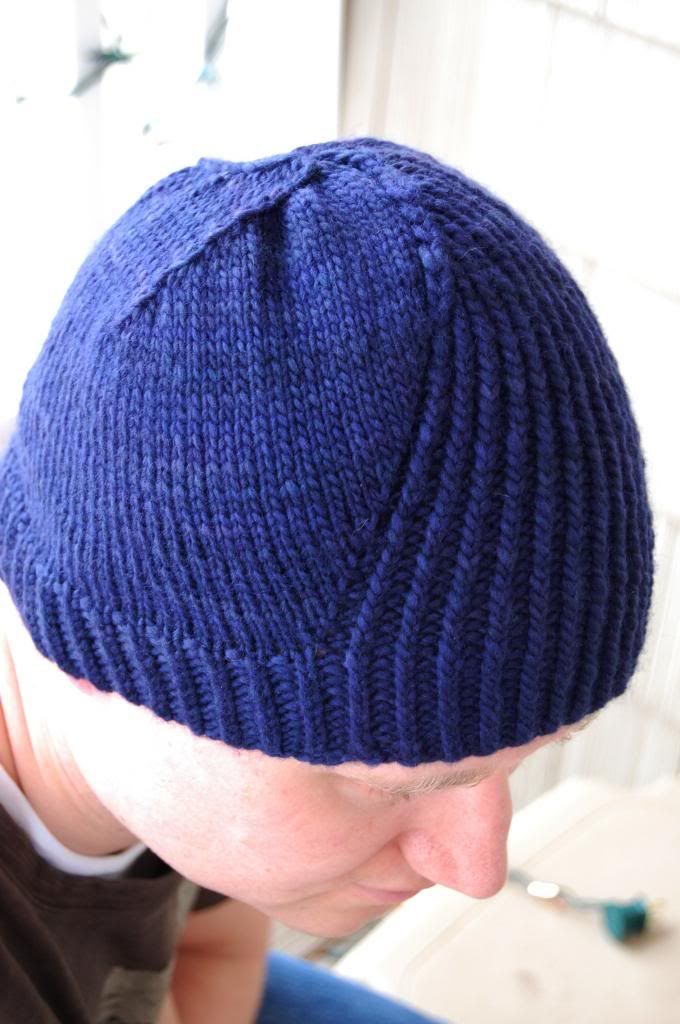 In fact, I actually made two of these (both for the brothers-in-law) - same pattern, same yarn. One skein of Malabrigo Merino Worsted was enough to make two hats in a large size. On one hat, I used a size 7 needle, and on the second hat a size 8 - for no specific reason other than I was trying to make it to fit the recipients head size.
So why is there only a photo of one finished hat? Well, let me tell you the super depressing story of my stupid mistake. I was under the time crunch to get all these hats done in time for Christmas, and needed extra time to get them mailed. I actually whipped these up relatively quickly. Once they were finished, I asked D to try them on. His head is about the same size as the measurements I got from his brother. When he tried it on, he kept saying it was too tight and too short. This should have been my first red flag because, as I said before, D. is super particular about his hats. It looked fine to me, and according to the measurements of the recipient, it would fit fine. I disregarded my gut instinct, and decided to block it out. BIG MISTAKE!!!
So I set out to block it. Once dry, D tried it on again and now complained it was way too loose. Sure enough, I had over blocked! UGH! I tried all I could think of to fix it, but ended up making it worse. At this point there was no time to rip it out and start again. For those of you not obsessed with yarn, Malabrigo Merino Worsted is 100% wool, and it WILL FELT. That is exactly what happened.
There I was, in tears, and stressed because I was under a time crunch. I had ruined a perfectly good hat. All my time and effort I put into making this hat was now wasted. The recipient would never get to wear this hat, and worst of all, my favorite yarn was ruined (it could not be saved).
Long story short, I trashed the ruined hat and started again. That is why there is only one finished Windschief Hat. More about the replacement hat next time.
Needles: US 7 (hat 1) and US 8 (hat 2), 16" circulars
Date Started: Nov. 26, 2012 (hat 1) and Dec. 9, 2012 (hat 2)
Date Finished: Dec. 1, 2012 (hat 1) and Dec 12. 12, 2012 (hat 2)
Modifications/Comments: I cast on for the large size at 104 sts.