Hilton Head South Carolina
to celebrate. I must say, it didn't really feel like Christmas when we were playing on the beach and running in the waves! Growing up, there was always snow for Christmas, so it felt really different...but different in a good way.
Hilton Head - watching the sunrise.
We were able to get enough time off work that we could spend a whole week in South Carolina. Then we decided to leave an extra day early and spent the night in
Charleston, SC
. We have spent the past two years in Charleston over Thanksgiving, but since we would be in Hilton Head for Christmas, we skipped it this year. We really enjoy exploring Charleston, and we tried to make the most of our one day there. I think if we had the opportunity, we'd move to Charleston - that's how much we love it. We spent time on the boardwalk, the battery, downtown, and of course managed to find our way to
SNOBS
. Our favorite restaurant! I would eat here every day if I could.
In Hilton Head, we got a great condo near the beach and near the wildlife preserve. It was really fun to see all the different birds and animals around. Although we didn't see any, there are apparently alligators that live there. I think it was a little too cold for them during December. On our first day there, we heard these hawks out in the trees and noticed one that was just next to our balcony. They were so beautiful and we spent a good half hour watching them. There were actually two, a larger one (the male) and a smaller one (the female).
Sunrise at Hilton Head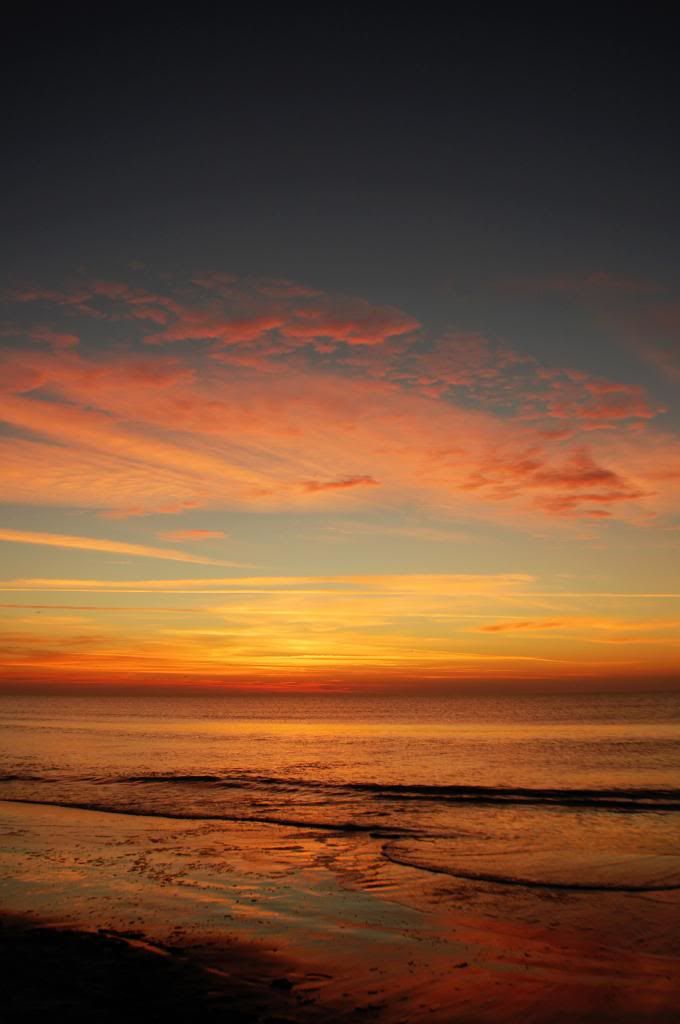 Sunrise at Hilton Head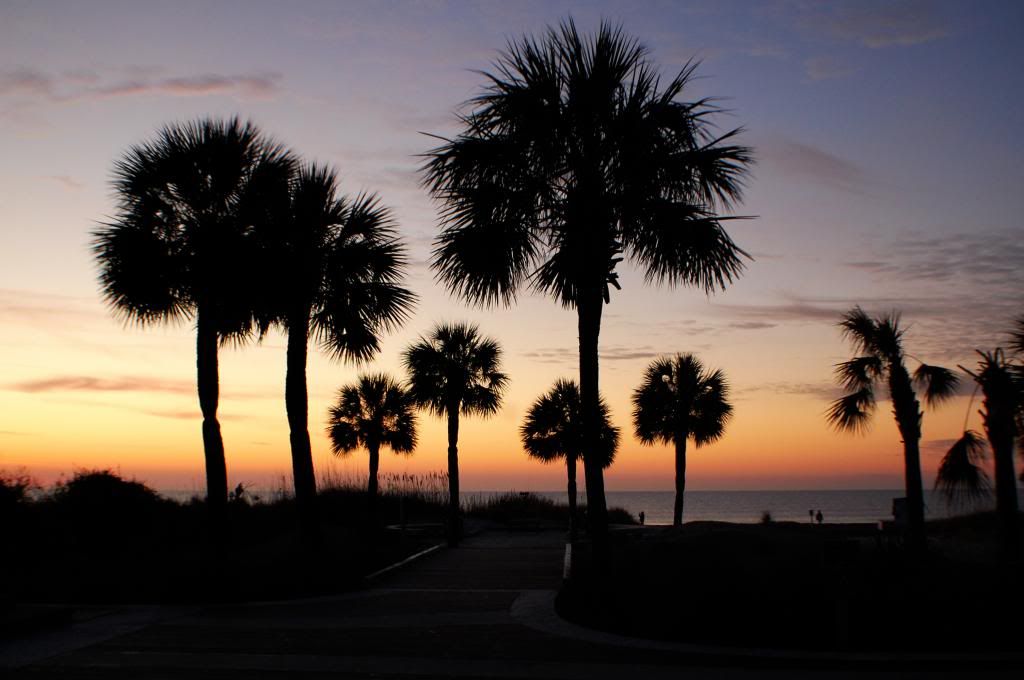 Sunrise at Hilton Head
Hilton Head is relatively close to
Savannah, Georgia
. So we spent a few days exploring Savannah. It is a toss up between Savannah and Charleston as to which is my favorite. Although we only spent three days in Savannah, it really is an amazing town and I wouldn't mind spending more time there.
During one of our daily trips to Savannah, we visited the
Wormsloe Historic Plantation.
Just arriving to this old historic plantation is a site to see. As you enter the site, you drive down the road that is lined with oak trees covered in
Spanish Moss
. It was just breathtaking and really impressive to see. We were able to walk around and see the old home site, the swampy inlet that they guarded during the wars, and see a live demo of rifle shooting. Pretty impressive! D even helped us discover a new trail while we were roaming the site.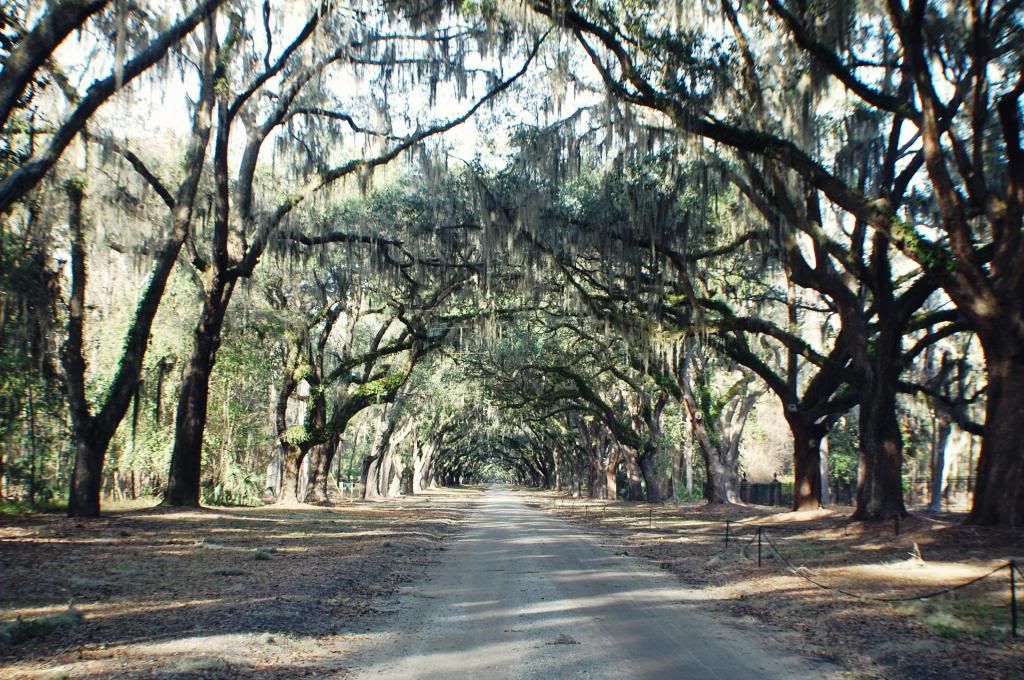 Entering Wormsloe Historic Site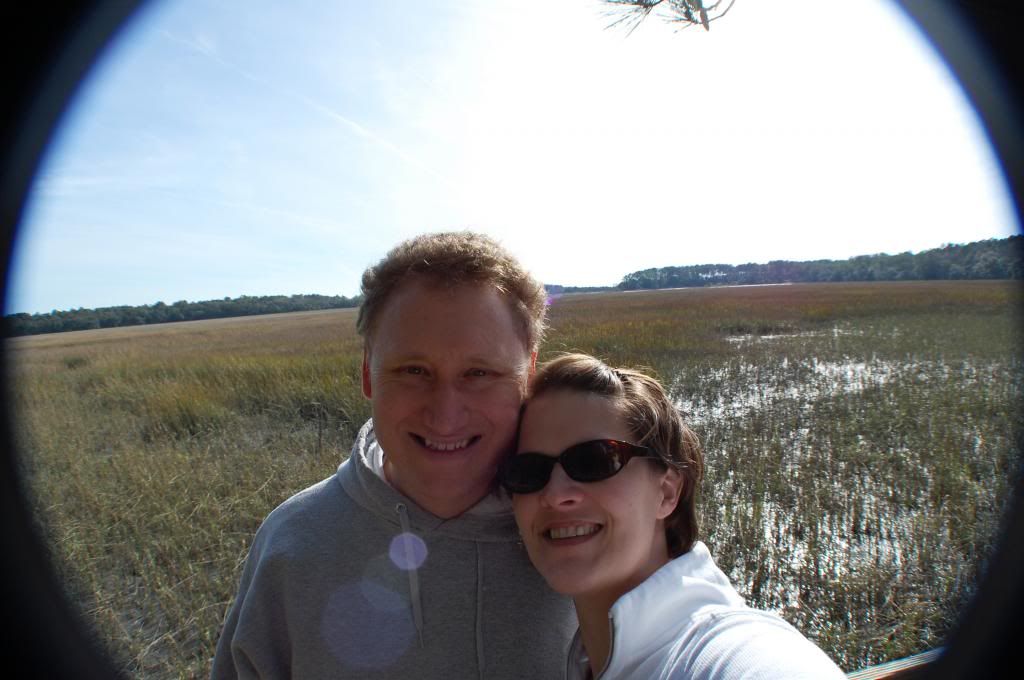 View of the inlet via the wide angle.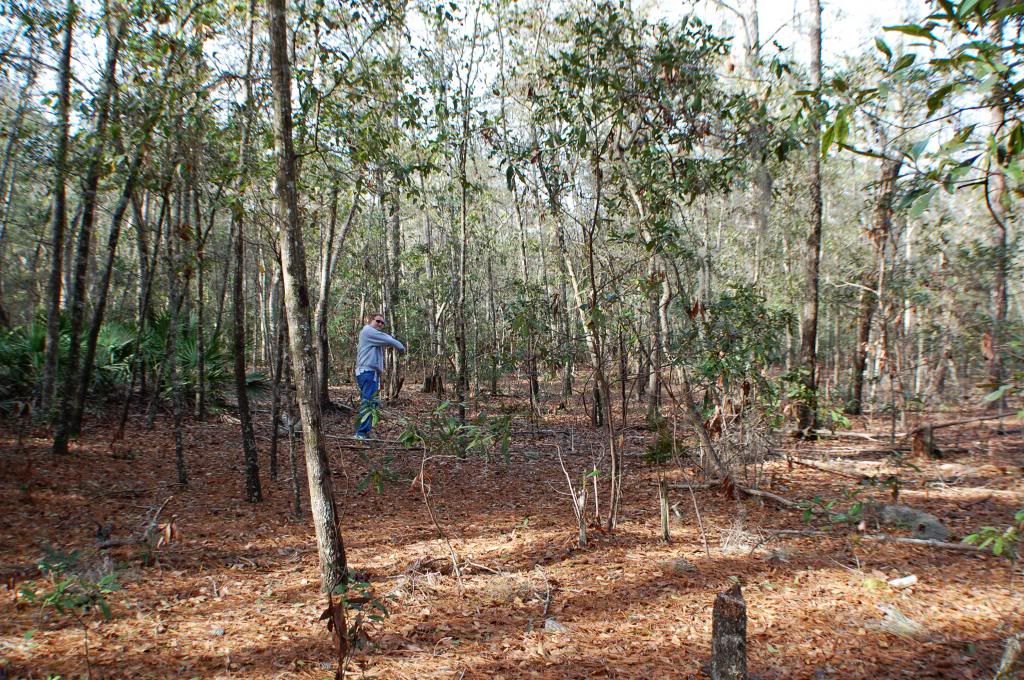 Discovering a new trail.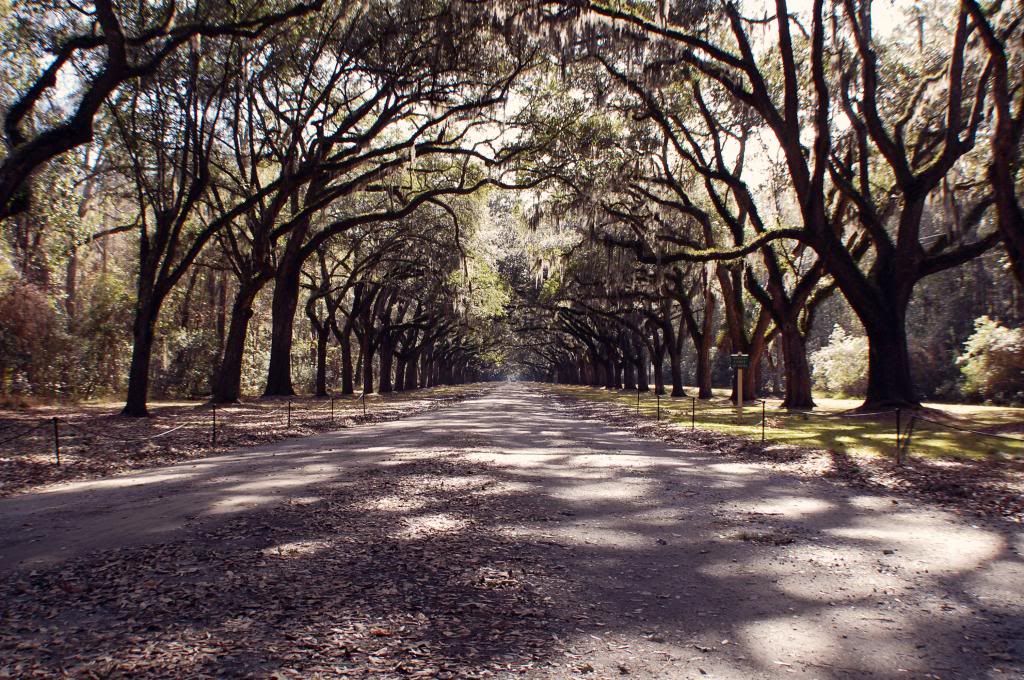 Exiting the plantation.
During our second visit to Savannah, we were able to stop and see the
Peacemaker Marine Ship.
The ship was built in southern Brazil by an Italian family of boat builders, using traditional methods and the finest tropical hardwoods. The ship was first launched in 1989. The ship sails around and docks at different ports where you can tour the ship. D has actually already visited the ship when it was in Wilmington a few years ago. His family was visiting and they spent the day at the beach and managed to tour the ship. I wasn't able to go because of work, so I was really excited to be able to visit in in Savannah.
The sails.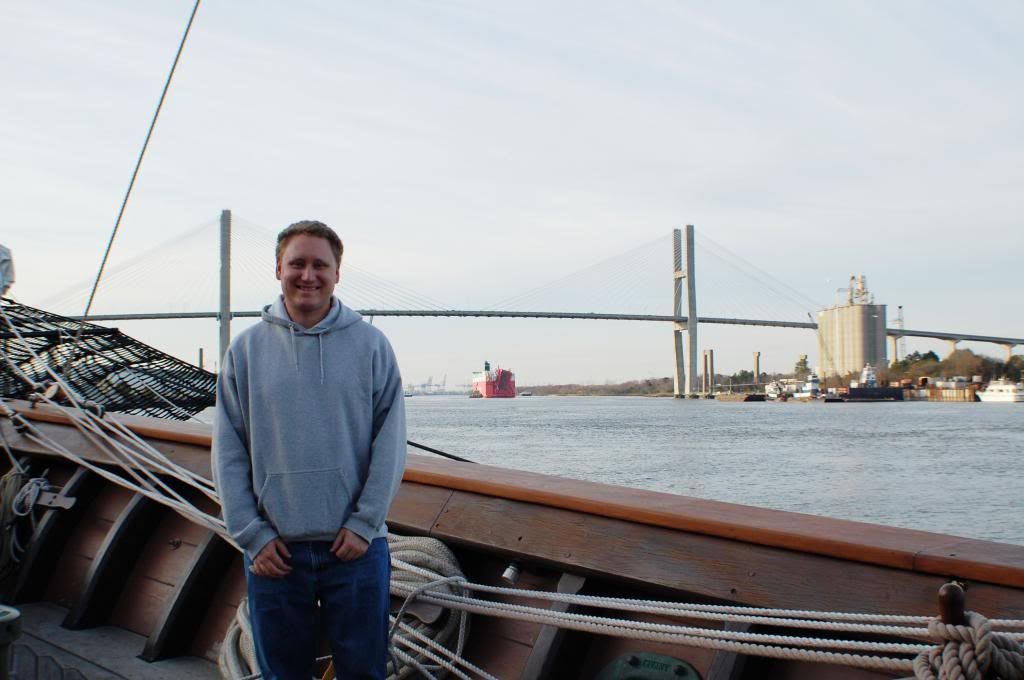 D on the Peacemaker with the bridge to Savannah in the background.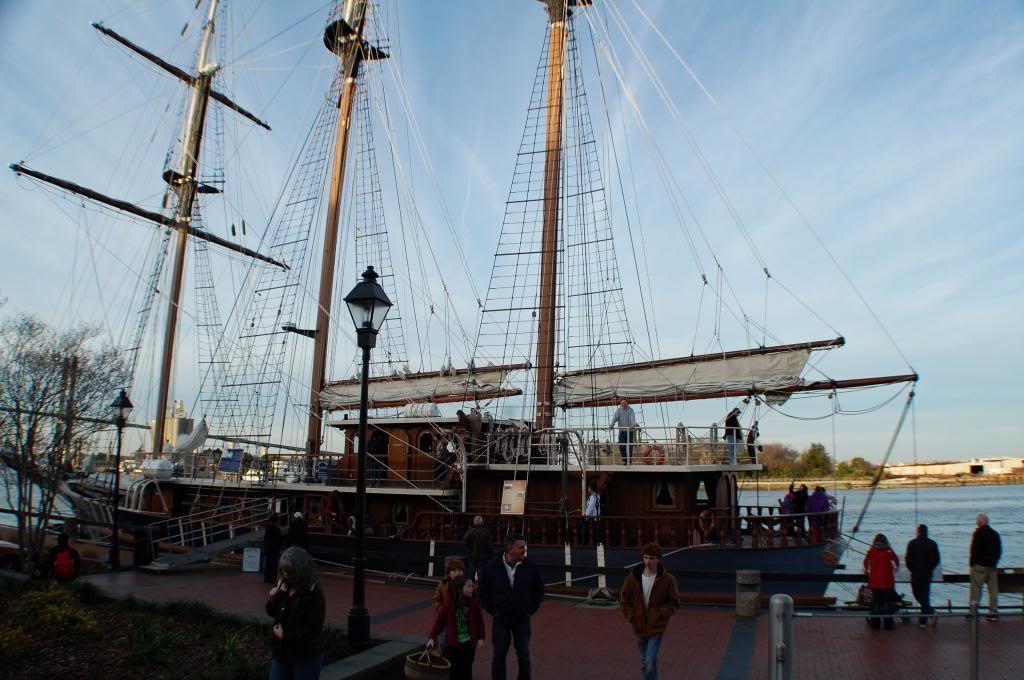 Can you spot D?
Our third trip to Savannah was probably the most memorable. During our first visit, we ate at this ice cream shop called
Leopold's.
It was so amazing, that we went back for a second time. This ice cream shop was stared in the 1919 by three brothers who immigrated from Greece. When it came time for the son's to take over the family business, the youngest son, Stratton, decided he wanted to be a movie producer and moved to Hollywood. After he became a success in Hollywood, Stratton re-opened the family shop in 2004. To our surprise, he was there working in the shop during our second visit.
Stratton Leopold!
He is probably the only famous person I will ever meet but what impressed us most was how humble he was. During our time there, we watched as he talked with customers, took out the trash, cleaned up tables, and helped how he could. I was so surprised when he came to our table and offered to refill our water glasses for us. Here he is, this famous movie producer who has worked with some of Hollywood's greatest actors (the shop is filled with photos of him with actors such as Ben Affleck, Morgan Freeman, Tom Cruise, Arron Eckhart) and he is offering to get me a glass of water! He has produced movies such as Paycheck, Mission Impossible III, The Sum of All Fears, and Captain America! He even took a few minutes to talk to us about his newest projects he's working on and asked us about where we lived. He was just so down to earth and genuine. Really, this was probably the highlight of our trip... not to mention the ice cream is amazing!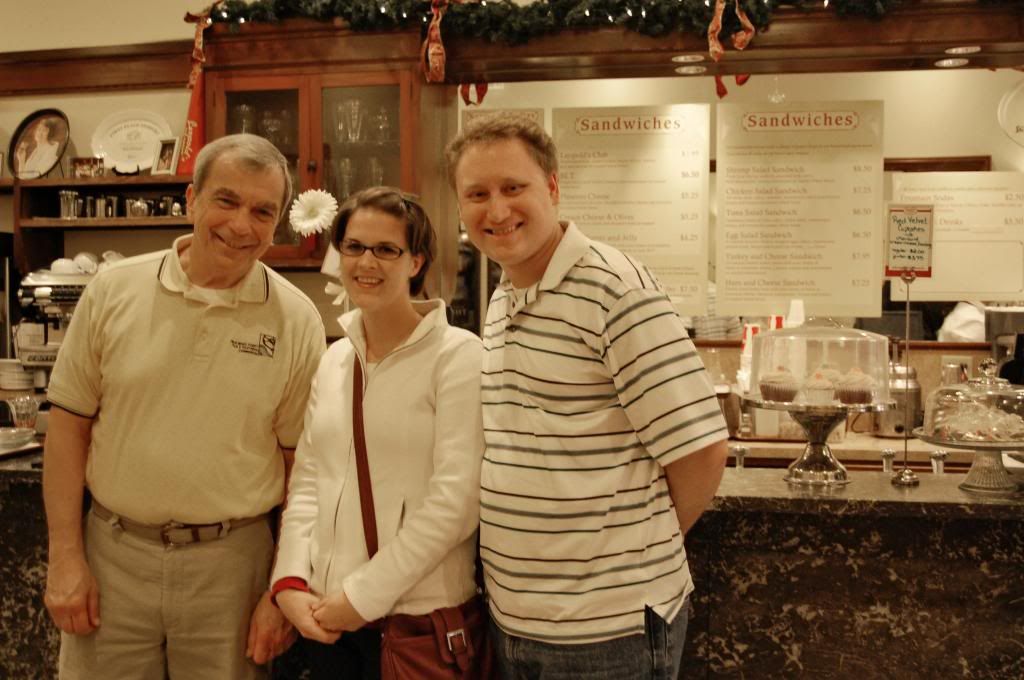 Stratton Leopold, Me and D at the Ice Cream Bar.
We found this great little chocolate shop where I scored this amazing peppermint white chocolate. By far one of the best things I've ever tasted! For Christmas, I got a new
wide angle/macro lens adapter
(which is amazing!) and so we had fun taking photos with it during our trip (as can be seen with all the wide angle shots above). Below are a few shots I took using the macro lens. And yes, there were roses blooming in Savannah during Christmas!
Most of our time was spent relaxing, exploring Hilton Head or Savannah, playing at the beach, and eating. It was the perfect vacation and a great Christmas!