This was one of those quick and easy kind of projects. A relaxing project. Something to help me not stress. The only problem... I don't golf, or have need of a golf club cover... but I do know a certain guy who loves golf. He has mentioned once before that it would cool to have a hand-knit golf club cover (although he might have been sarcastically speaking!). So, why not!
This is one of the few projects that I followed the pattern exactly. Not a single modification. Not even on the color changes. I even did a swatch to make sure I was right on gauge. It was a bit of a gamble for me -I have no idea what a five wood is or if this would even fit (I'm still not sure since I haven't heard from him if it fits or not) - so I stuck to the pattern and hoped for the best.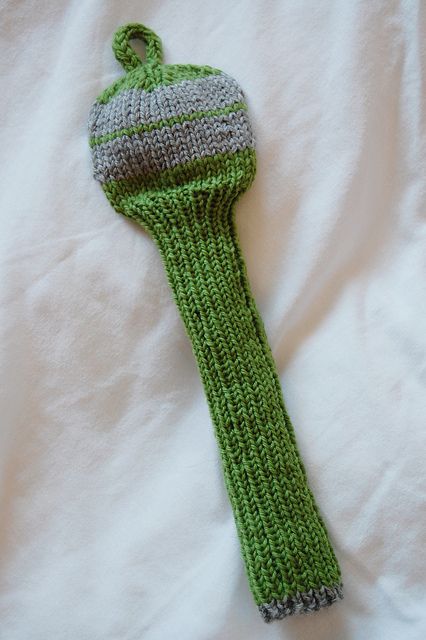 I think it turned out pretty cool - and hopefully not too "old school" for the golf course. Even if it doesn't get used, I still had fun making it.
Ravelry Project Page
Pattern -
Golf Club Covers by Purl Soho
(free)
Yarn -
Knitpicks Swish DK
in green and gray. Both colors were leftovers from previous projects so I can't remember the colorways - I think the green was a green apple (discontinued) and the gray is Marble Heather - But I can't say for certain.
Needles - US 5, 6 and 8
Date Started - February 7, 2013
Date Finished - February 9, 2013
Made For - Greg (BIL)
Size - to fit for a Five Wood club .
Mods - Surprisingly, I actually knit this according to the pattern. No mods. Not even on the color changes.